How to Find Valuable Watches at Online Auctions or Forums
If you're interested in valuable watches and you want to find out how to search for these collectibles via the World Wide Web, you should know that the best places to hunt for the perfect timepieces include online auctions and forums. By seeking out deals on exclusive watches at these virtual trading posts and Internet message boards, you'll access a host of superb choices, some of which are almost guaranteed to be excellent financial investments that will increase in value over the years.
To help you learn more about the art and science of seeking out the ultimate valuable watch, we've compiled a helpful quick guide that will assist you in finding the luxury timepiece of your dreams via the Internet.
Think before you buy
Inform yourself
To good to be true usually is… to good to be true!
Secrets of Buying Watches Online
When it comes to buying watches online, you must understand which brands offer the best quality and the most lucrative resale value. For example, classic timepieces, such as those crafted by Audemars Piguet, IWC Schaffhausen, Piaget, Rolex, and Patek Phillipe for example are wonderful choices that tend to keep their value and to command excellent resale prices. When you source out these brands via the Internet, you'll need to be very sure that they are the real thing. Many counterfeit versions of these collectible watches are available online. Before putting down money on a luxury watch that you find via the World Wide Web, be sure to ask plenty of questions, and be certain to inspect photographs of the timepiece very carefully.
Exclusive watches are solidly built, with heavy links, sapphire crystals, sweeping second hands, and top-notch metals, such as white gold, yellow gold, sterling silver and platinum. Some high-quality sports watches may be crafted from high quality and A+ grade stainless steel.
Rule of M! Movement, Mechanism and Material
All internal mechanisms and movements of any prospective purchase should be flawless and of obviously premium quality. The best way to ensure that you're getting a superlative deal is to ask for proof of original sale, along with any papers that came with the timepiece. After all, these types of watches are collector's items and status symbols, so they are never sold without paperwork that proves their authenticity. Beware of buying an expensive watch that doesn't have any proof, or provenance, which definitively establishes its history, and its value as a genuine luxury timepiece.
To find out more about your preferred brand, visit the official company website of that timepiece's manufacturer. Study pictures of their current designs and then compare them to the watches that you are interested in at auctions and forums. Luxury wristwatches from top-tier companies have certain characteristics that vary by brand, and studying photographs at official websites will help you to recognize these crucial characteristics. Look at logos on the watch face – do they appear to look exactly the same as the ones that you see at online auctions and forums? If not, you may not be looking at a genuine collector's item.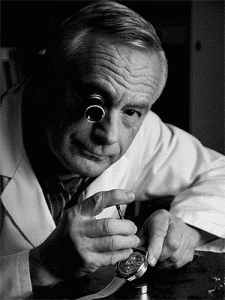 Learn to study photos with a watch connoisseur's eye. Remember that shady operators are everywhere, so you must learn to do plenty of homework and research before choosing the perfect valuable watch online.
Without due diligence, you may get burned. It is quite possible to get a great deal on these types of timepieces, as long as you know what to look for. Finding authentic watches that are in mint condition should always be priority one.
Due diligence is key
Another pre-purchase strategy that may prove worthwhile is to buy a book that details the world's most appealing and valuable watches. These specialized books about watches
may be somewhat pricey, but they are often worth the money. Look for detailed manuals that feature full-color photographs of hundreds of collectible timepieces, and then study the pictures, along with any text regarding resale value, product features, and so on. Many men and women who purchase valuable items online, such as antiques, expensive watches and vintage jewelry, rely on these guides to avoid getting ripped off. A great manual will be available at almost any good bookstore or online retailer, and it may be worth its weight in gold.
Where to Find Watch Sellers on the Internet
Now that you've learned how to find the quality and authenticity that you need, you must decide where to browse for deals on luxury watches. Once of the best places to begin the hunt is Ebay.com. This popular online auction site offers a range of collectible timepieces from exclusive watchmakers, such as Movado, Omega, Rolex, and more. Ebay is an excellent barometer of vintage wristwatch value on the open market. Use this valuable online resource to find approximate values of models that you are interested in.
Check a seller's feedback very carefully before making a bid or buying a watch outright (both options are usually available to buyers). Look for proof of authenticity. If a price seems too low, something's not right. Generally, these watches will always cost more than a thousand dollars. In other words, if you see a vintage Rolex on sale for $9.99, it's not the real thing.
Fake or the real stuff… how to tell
Ebay.com is a great place to start looking for exclusive watches, since it assists you in establishing value. If you don't find what you need at this Web-based auction house, move on to other virtual auction houses. Examples of these include Bidz.com and the trading post at Watchnet.com. Use the power of Internet search engines to find even more auctions, and then comparison shop to find a killer deal on your preferred luxury timepiece.
How to Find Great Timepieces via Online Forums
Internet auctions are one way to find the collector's watches that you want. However, another great way to connect with sellers is by joining online message boards and forums devoted to fine wristwatches. There is a good forum in place at chrono24.com, and you'll find others of that type online. At these Web-based message boards, you'll be able to meet and greet watch sellers from all over the World, some of whom may be selling exactly what you want. Of course, you must be wary, and you must perform the same due diligence that you would before choosing a timepiece at auction. Prospective sellers must be checked out thoroughly and authenticity must be established.
The beauty of these forums is that, by frequenting them regularly, you'll make great connections to sellers, while also learning so much about the art of collecting luxury timepieces.
Now that you know more about how to find valuable watches at online auctions and forums, you'll be ready to find the ultimate deal on an authentic wristwatch that fulfills your every expectation.