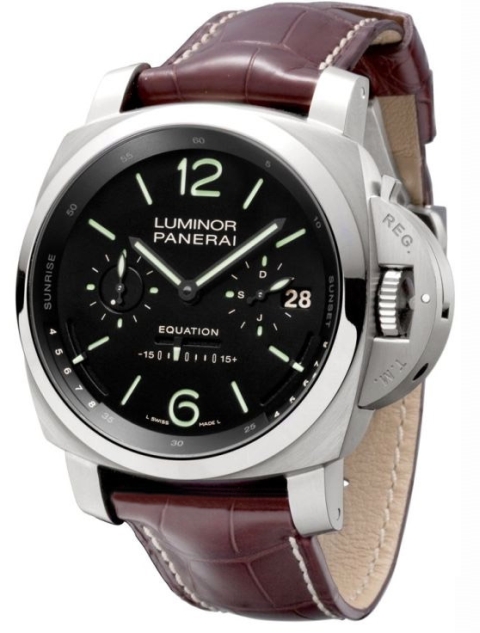 Panerai Watches by Officine Panerai
When it comes to distinct and striking watches for men, Panerai simply beats its rivals.
Although competitors such as Rolex and Breitling are more popular to mainstream consumers, men with more exclusive taste seek for the limited and exclusive watch models that only Officine Panerai can offer.
<<< The very exclusive Panerai Luminor 1950 Equation of Time
The brand, Panerai is undeniably the top watch brand for men. Its history dates back over 150 years ago when Giovanni Panerai started crafting his own brand of premium timepieces made exclusively for men in Florence, Italy.
It was in 1900 that Giovanni Panerai's grandson, Guido Panerai continued the legacy and supplied not only watches but precision instruments to the Royal Italian Navy. This feat alone reflects the attention to detail and high-quality of materials and movement that Officine Panerai has consistently been using since 1860.
Panerai Diving Instruments for the Italian Navy
In the 1930's, Panerai diving instruments were exclusive distributed to officers and soldiers of the Italian Navy between the 1930's and early 1990. It eventually ceased to supply watches to the Royal Navy as the materials used in the construction of watches and precision materials were costly. In addition, naval specifications were not met and addressed in the crafting of Panerai diving watches in the last few years of its commission.
It was also in 1993 that the Florentine watch company introduced their brand to the mainstream consumer market. What was once an exclusive brand for the Royal Italian Navy suddenly became a luxury watch brand for men. Luminor and Mare Nostrum were the first two chronograph models that were aimed to strike the interest of horological aficionados the world over. The basic marketing strategy of Officine Panerai was to spark the interest of watch collectors who highly value quality movements and precision materials in the manufacturing of timepieces. They were successful in grabbing the attention of the rich and famous by simply manufacturing in limited numbers only.
The new start of Officine Panerai
It was in 1997, that Officine Panerai became a subsidiary of Richemont SA. The goal of the new company was to preserve the rich history of the Panerai brand through the collection of historical and classical timepieces and precision items such as compasses, diver's watch, dept gauges and many more. Panerai originally distributed its goods to the Italian government and there were numerous patents of watch modes that exhibited precision mechanical work and utmost premium quality movements by Giovanni Panerai himself and succeeding watchmakers who value excellence and precision like no other. These valuable items are now housed inside the Historical Boutique in Piazza San Giovanni in Florence, Italy.
Laboratorio de idee
When it comes to design, presentation, and original themes, Panerai has exhibited that its leadership in the past couple of years. Since the acquisition by Richemont, the old traditions of watchmaking were successfully merged with the innovative styles of today. Instead of sourcing its primary materials from other watch manufacturers such as Rolex, the top watch brand company is now producing its own movements and materials.
Panerai has its share of classic watches to contemporary watch for men. Design inspiration for recent models mostly comes from the timepieces that were originally designed and crafted for commandos of the Royal Italian Navy. Vintage-inspired timepieces and commemorative watches are what make Panerai the number one selling watch brand in the world. Officine Panerai under Richemont have successfully made it possible to market a long-forgotten brand into one of the most sought after and trendiest watch maker on a global scale.
Due to the high demand and limited supply of Panerai watches, powerful male figures clamor to wear one around their wrists. Not only is the aesthetics of Officine Panerai watches breath taking but the mechanics and instrumentation's of its products are truly ingenious and clean. The brand's full attention to detail and specifics have made Panerai a notch higher above the rest. It's that sense of exclusivity that transformed Panerai into a no-name brand to one of the most successful watch company in the world.
Limited editions guarantees good value
To add exclusivity and utmost value to Panerai watches is the fact that the company only produces up to 4000 for each watch model that they design and formulate. There are basically four groups of major collectible watches under the Officine Panerai brand namely Historic, Contemporary, Manifattura, and Special Editions.
If luxury bags for women often come with serial numbers, the same sense of exclusivity can be seen in authentic Panerai timepieces. An issue number is placed on the case back to indicate the limited nature of Panerai. The company also releases authenticity certificates and manuals that come in every purchase. There are only a few stores that are authorized to carry Panerai watches. Fine jewelry stores and specialty boutiques are known to carry the Panerai brand under their roof. These locations are only provided with a limited number of timepieces at any one time. In most cases, the models are pre-ordered to guarantee its sense of indulgence and luxury.
Panerai Best Sellers
The collectible nature of Panerai has made the brand a big hit to top dogs, A-list celebrities and powerful men throughout the globe. Instead of opting for a Rolex or Patek Phillipe, or Piguet, men of wealth and power choose to collect and purchase Panerai watches instead. The price range for Panerai models range from $5000 for standard and basic time pieces to a whopping $220,000 for exclusive and vintage pieces.
Here are the top six Panerai models that are known to be the dream of watch aficionados and collectors alike:
Panerai Luminor 1950 Marina 3 Days Automatic (leather version)
Panerai PAM 197H
Panerai PAM127 (aka the Fiddy)
Panerai vintage Marina Militare
Panerai 60mm Egiziano
Most of the models are still available today, but since the company only produces a limited number for each model, the remaining watch models that are being sold in the commercial market range between $50,000 and $200,000 a piece.
All details and materials are top notch and robust
From the basics, the case, the crystal, the dial, the movement, the straps, and aesthetics Panerai has successfully captured the desire of men for rich, sophisticated, and robust watch pieces. Owning one is a dream come true as the classic appeal, vintage but impeccable mechanics, and the modern twist into its design and marketing approach have made Panerai to die for.