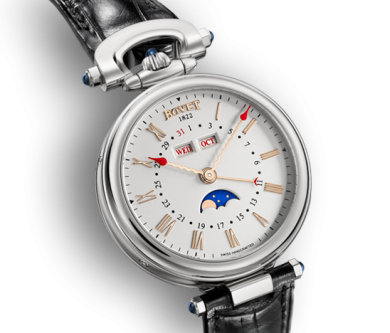 The Bovet Amadeo Fleurier 42 Watch Offers Unprecedented Beauty
Updated March 2017
A top-tier luxury watch, such as the stunning and unique Bovet Amadeo Fleurier 42, is designed to be an unforgettable object of beauty that captures the imagination and delights the eye, again and again.
If you're searching for a showpiece that really illustrates the appeal of expert craftsmanship and the quality of the world's finest precious metals and sapphire crystal, you'll adore what this marvelous peice of Bovet has to offer.
Created for the most discerning clients, this timepiece is decidedly romantic, yet traditionally masculine. Its signature design element is delicate bas-relief floral patterning that offers the perfect backdrop for the watch's precision mechanisms.
Crafted in black and white, the graphic appeal and visual punch of this timeless design is truly second to none. Its carved metal floral pattern is known as fleurisanne, and this striking motif is covered by a polished, sapphire-crystal face. The watch is also adorned with a golden winding rotor that adds yet another touch of richness and dimension.
Meant to be cherished by those with an eye for fine design that is both ornate and totally out of the ordinary (in the best possible sense), this watch is also a very practical choice, due to its luminous triangle, which displays minutes so clearly upon the dark, enamelled dial ring.
This Watch is Perfect for Men who Embrace Fashion and Personal Style
This watch is an ideal choice for any man with a flair for fashion, as it will never, ever fade into the background. If you enjoy wearing fine suiting or casual separates with a touch of whimsy and vintage style, you'll find that this Bovet design sets off your personal style to absolute perfection.
Meant to be a conversation piece, this striking watch is also a practical and versatile choice, as it may be worn in typical wristwatch style, with supple leather straps, or as a fine pocket watch (with a silver link chain). In fact, you may even display this watch in your home or office by using a base stand to show it off when you're not wearing it.
The Bovet Amadeo Fleurier 42 watch is very pricey, but worth the cost for its unprecedented beauty alone. Of course, it's also a fine monetary investment for men who look for excellent resale value from their fine timepieces.
Features of the Bovet Amadeo Fleurier 42 Luxury Timepiece
The concept of a three-way convertible watch is central to the Bovet Amadeo Fleurier line of watches, so being able to choose how you wear or display your valuable timepiece is one of its key selling points. Using your watch as a table clock, as a pocket watch, or as a traditional wristwatch will give you more options and more enjoyment of the timepiece's beauty and functionality.
Three watches in one
In addition, you will enjoy the watch's "jumping" digital hour set, which appears at the center of the timepiece. This extra feature offers supreme ease of use. All of this luxury watch's special features and specifications are clearly visible through a fine sapphire-crystal case back. Every design will come with the manufacturer's papers and presentation box.
Now that you know more about this signature Bovet timepiece, you'll understand just how decadent a luxury watch can really be. Sometimes, choosing such a watch is truly a rite of passage that signals entree into a more successful and sophisticated lifestyle. For others, this watch is an ideal means of self-expression, as its delicate floral motifs and hyper-stylish design fits their personalities to a "T".
Specifications:
Functions:
Hours, Minutes, Triple Date (incl. day and month), Moon Phase
Case:
White gold 42mm
Strap:
Black alligator leather strap with a white gold pin buckle
Dial:
Silver
Hands and markers:
Golden hands with red enamel tips. Golden hour markers.
Movement:
Bovet 11BA11 – 72 hours power reserve
Glass:
Scratch resistant sapphire crystal.
Water resistant:
30 meters