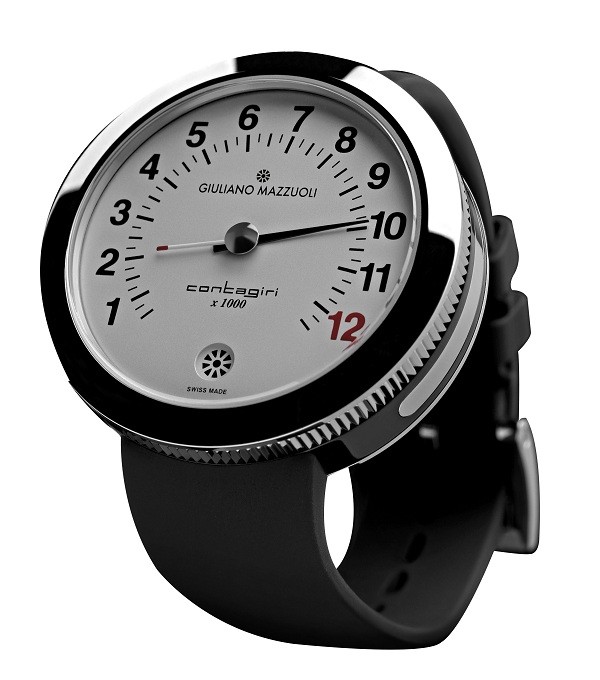 Embrace Italian Design with the Giuliano Mazzuoli Contagiri Timepiece
For centuries, Italians have been known for their style, their passion, and their desire to experience "La Dolce Vita" (the sweet life).
Today, Italian design with a decidedly modern edge is featured in the bold, clean lines of the Giuliano Mazzuoli Contagiri wristwatch.
This luxury timepiece sends a masculine message through its gleaming stainless steel accents and its rich, black watch face. The perfect complement to a sharp suit, this versatile design will also looks just right with more casual attire, such as polo shirts, basic t-shirts, and cargo shorts.
Contagiri in bulletpoints
Contemporary watch
Pure raw design with delicate elegance
Excellent choice of materials
Unique movement/adjustment patent
Highly collectible
Are you confident..?!
Perfect for men with confidence and an innate love of fine design, this exquisite timepiece has the sleek, powerful look of a Ferrari roadster, and it also has the sort of top-tier performance that is associated with Italy's most impressive sports cars.
Masculine in the extreme, this bold and brave Giuliano Mazzuoli Contagiri design features large numbers that are carefully arranged to mimic the look of a car's speedometer. When you wear this design, you can practically hear the purr of a very expensive engine. To add a little spice, the "12" numeral is colored a dark crimson, which offers a hint of vibrant beauty to the watch's restrained black, silver and white color scheme.
Pure Italian elegance with masculin power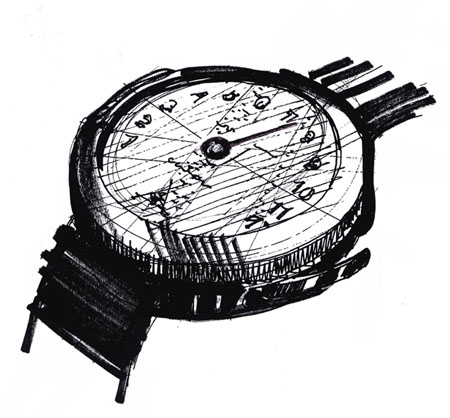 Modern, striking, and substantial, this elegant Italian wristwatch sends a message of strength, power and capability.
Any man who wants to express his personal style (and mindset) through his wristwatch wardrobe will enjoy adding this special luxury timepiece to the queue. In fact, due to its beauty alone, this watch may be destined to become an everyday favorite.
After all, unlike some high-end wristwatches, which feature too many overpowering design elements and "bells and whistles", this sophisticated design is something that almost any man will feel comfortable wearing. Of course, for a performance standpoint, this watch has everything that a man could want; however, it doesn't overwhelm the eye with multiple dials, bezels and other "bells and whistles".
From its masculine palette to its ease of use (this watch is so easy to read!) to its satisfying heft, this timepiece offers the perfect blend of form and function, so it will always be a pleasure to own. Like all of this company's rugged and durable (yet totally elegant and Italian) timepieces, the Giuliano Mazzuoli Contagiri is designed to be cherished for a lifetime.
Features of the Giuliano Mazzuoli Contagiri Watch
No crown is needed to wind this watch or to set its time. For superior ease of use, the watch features a unique lever mechanism that is similar to a vehicle's gear shift. This fun and exciting feature is just one of the elements that set this luxury timepiece apart from the rest. In addition, owners of these watches may perform functions through the timepiece's lunette, rather than its crown. (website Giuliano Mazzuoli – Contagiri)
See the unique lever in action
Crafted from diamond-like Carbon stainless steel, this watch also features convex sapphire crystal and Cotes de Geneve plates and bridges. Each watch has a power reserve of forty-two hours.
Now that you've had a chance to appreciate the beauty of this sleek Italian timepiece, you've had a little taste of "La Dolce Vita". As a symbol of success and competence, this watch is second to none. As an expression of tastes and preferences, it is the perfect choice for many men who appreciate the legacy of premium Italian design.
Specifications:
Movement:
Mechanical with automatic winding
Calibre:
GM Cambiosequenziale/01 Shockproof (incabloc model), 29 jewels, 131 components
Power reserve:
42 hours
Decoration:
Main plate and bridges with Côtes de Genève (parallel bands))
Case:
44 mm diameter, 13.30 thickness, stainless steel case with black DLC (Diamond Like Carbon) treatment, case back lunette and function lever in polished stainless steel
Dial:
Black dial with Arabic numerals
Functions:
Central hour hand retrogrades after going through an arc of 270°
Crystal:
Convex sapphire crystal
Water resistance:
5 atmospheres (50 meters)
Patents:
3 worldwide patents