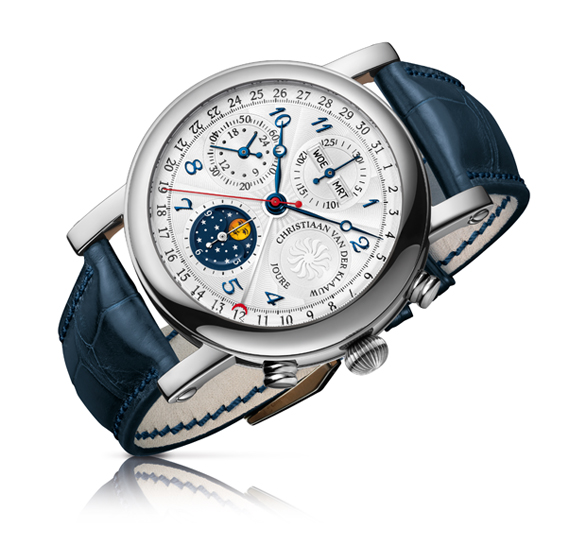 Christiaan van der Klaauw – Ariadne
Christiaan van der Klaauw makes absolutely spectacular astronomical timepieces with complications that display the phases of the moon and other astronomical features. The Ariadne, in my opinion, is one of his most beautiful timepieces. It's less a watch, and more like a little piece of art, mounted on your wrist.
The Ariadne, like most of the watches in the Christiaan van der Klaauw collection, has some interesting complications. The main astronomical function is to display the position of moon, which can be read at the bottom of the watch face. When the moon is not visible, the watch displays a beautiful starry sky. Of course this complication is mostly decorative, but it's still fairly interesting, and as you'd expect it's completely accurate.
Unusually for a Christiaan van der Klaauw, this watch is actually also a chronograph, with two subdials on the face of watch with 30 minute and 24 hour indications. This gives the watch a slightly sporty appearance, at least for this brand. This complication is also significantly more useful for me than reading the phases of the moon.
Dutch watchmaker and his "complications"
Christiaan van der Klaauw watches often have an intricate and unusual beauty, and this timepiece is no exception. However, they are sometimes criticized for having a slightly gaudy complexity and feminine aesthetic. The Airadne is possibly the most masculine watch that Christiaan van der Klaauw has ever designed. It has a much more classic, refined and conventional appearance while retaining the unique astronomical character that the brand is famous for. Most of the watches in this range would only suit a particularly flamboyant personality, but the Ariadne is perfectly suitable for even a very conservative character.
This watch is beautiful, but not "fancy". It has a delicate flair, and signals quality without being ostentatious. The beauty is simple. It is unmistakably a Christiaan van der Klaauw, but it stands out from the rest of the range by virtue of this simplicity. But while this watch is simple, it is by no means sparse. The overall picture of simplicity that the design carries is even more impressive when you think about how busy the dial is. There are a lot of features on the face of this watch, and a lot of indicators. However the design has been created to retain an overall simplicity despite this. It's a formidable feat, and one that only a master watch designer could pull off.
In 1992 Christiaan van der Klaauw won the prestigious gold medal at the watch fair of Basel with his 'Pendule Variable', which won him a definite place among the great contemporary masters. The jury was full of praise and motivated their choice as follows: "With the design of the 'Pendule Variable', Christiaan van der Klaauw has proved to be a real innovator in the field of technology and design. His creative abilities enable him to get round seemingly insoluble problems, and this earns him a lot of admiration from connoisseurs and colleagues." Read more
Chronograph, Moon phase, Date, Month and 12 hour indicator
While this watch is a chronograph, it's definitely not the type of watch that you would wear as your normally would wear one. This is perhaps the most elegant and delicate chronograph I've ever seen. It's only sporty in comparison with the rest of the Christiaan van der Klaauw range. It definitely couldn't be described as rugged.
The midnight blue of the moon phase indicator window matches well with the deep blue of the alligator leather strap. The numerals and other indicators on the watch are the same understated blue color. Along with the white face of the watch, it's a simple and elegant color scheme that would suit any outfit. It's perhaps not the best type of watch to wear with more casual styles, but it's definitely suitable for both daytime and evening wear. Whether paired with a classic dark suit or a tuxedo, it will be an extremely elegant addition to your look.
As you'd expect from this brand, the mechanism of the movement is flawless. Looking inside this watch is like gazing into a tiny factory, with complex and intricate mechanisms working in tandem for incredible accuracy. Christiaan van der Klaauw watches are known for their impeccable aesthetic sense, but the quality of the movement shouldn't be underestimated. If well looked after, this is a timepiece that can last for generations.
Will the Ariadne (and other vander Klaauw watches) be valuable collectibles?!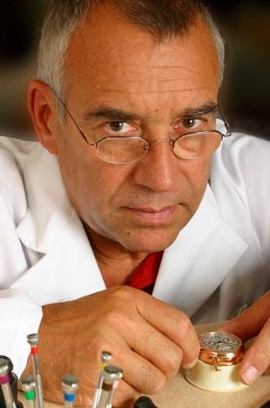 There are rumors that Christiaan van der Klaauw watches are set to increase in price greatly when the man himself sadly dies. This wouldn't be unusual for works of art, which the Ariadne certainly is.
This is one of the main reasons I could advise anyone who is considering a purchase to think carefully about how much the price could increase once this great man is no longer around to create such exceptional timepieces. (Read more on collectibles)
Overall, this is a beautiful watch that I would deeply enjoy owning as it would be a worthy edition to anyone's collection. It's truly a watch for those who appreciate the beauty that an intricate, yet simple timepiece can have.
Technical specifications
Christiaan van denr Klaauw Ariadne CKAR3376
Movement: CVDK 7770 self-winding chronograph movement with 25 jewels.
Functions: Hours, minutes, decentralized second hand, 24-hour indicator; day, date, month, moonphase; chronograph hand, 30-minute counter, 12-hour counter.
Case: High quality steel, ø 40 mm; anti-reflection sapphire crystal; transparent case-back.
Dial: White with blue indexes.
Hands: Blued steel, white coloured 12-hour hand, red chronograph hand.
Strap: Blue alligator leather.
Buckle: Logo engraved steel folding buckle.