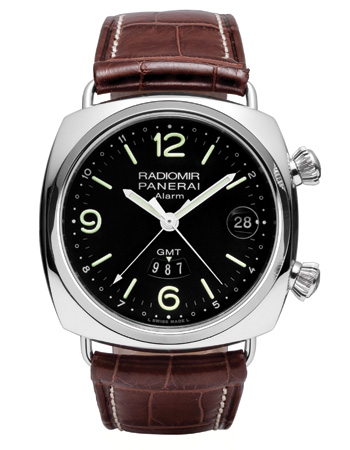 Panerai Special editions 1999 Radiomir GMT/Alarm
The first thing that struck me about the Panarai Special Edition 1999 Radiomir GMT/Alarm is how lucky I would be if I'm able to wear one.
Only sixty of these watches were ever produced, which makes it one of those rare and  precious watches that fit in any decent collection of valuable watches. And therefore it should be in mine too.
Panerai, not the everyday watch
Panarai watches aren't the most "commonly" seen brand and this fact gives this special edition Radiomir a further distinction. Even those who know next to nothing about watches are charmed by its sporty and rugged looks. The original Radiomir was designed for divers in the Italian navy, and this is apparent in the sturdy styling of this special edition.
In general the collectors of Panerai watches love this brand because of consistency in the "DNA" of their famous models Radiomir and the Luminor.
Update 2016: the launch of the new model Luminor Due. 
Retro militaristic Italian style and quality
There is a certain retro militaristic chic about the whole watch. It's beautiful in a simple, Spartan type of way. It's also seriously chunky, and you will never forget that it's on your wrist. It's almost quintessentially naval, in the same way that a Breitling always conjures up the spirit of aviation. Most importantly, it has the type of natural and understated style that you would expect from a product that is designed in Italy.
Durable materials as usual with Panerai
As you might expect from a Naval watch, it is completely resistant to water to a depth of 30 meters, and it has all kinds of interesting technology inside. The balance wheel is made of Glucydur®, which is a high performance metal alloy. This type of metal was specifically constructed to create an accurate and durable balance system within a watch. The spring is made of Nivarox® I, another specialist watch making alloy.
The use of these alloys in the mechanics of the watch means the mechanism is highly resistant to changes in temperature. Metal can expand or contract in extremes of temperature. In most applications these tiny movements make no difference, but in an instrument that is as sophisticated as a Panerai watch, even small contractions and expansions can negatively affect the accuracy.
IncaBloc anti-shock
The Incabloc® anti-shock device in the watch sounds like a very advanced mechanism, but it is actually a watch making innovation that dates back to the 1930s. This clever little spring prevents delicate parts inside the watch from being damaged if it is dropped onto a hard surface. In addition to the heavy, sturdy construction of the watch, it makes this Radiomir a rugged piece of equipment. Of course no precision made, high quality watch can ever be indestructible.
Underneath the tough exterior there is still a delicate timing instrument that needs to be taken care of. Since this particular Radiomir is so rare for sure as an owner you wouldn't wear it in a situation where it could be even slightly damaged, but for those who are a little more carefree feel free to use it in sporting situations.
One of the rare Panerai's with alarm
This watch, in common with the standard Radiomir, offers a minimum of interesting complications. The beauty of this watch is in the simplicity. There is however a 2nd time zone indicator, which is a 24-hour display that can be viewed in a small window below the center of the watch. I travel all the time, so for me this would be particularly useful, but it's an attractive and interesting feature even if you remain resolutely stuck in a single time zone for much of the year. There is also an incredibly reliable alarm function, which is a very unusual function in a watch of this standard, but certainly a very useful one.
Alarm showed on video (not the PAM046 edition but similar)
Panerai PAM 046 Radiomir GMT/Alarm
If you are looking for a rugged diving watch then you couldn't go far wrong with the Panerai Special Edition 1999 Radiomir GMT/Alarm. It's solid, reliable and attractive without being flashy. The only real problem you could potentially face is finding one!
Technical specifications
Movement: GP Calibre 59
Water Resistance: 30m
Dial Color: Black
Bezel: Polished White Gold
Case: Polished White Gold
Caseback: Open
Crystal: 1.5mm Sapphire
Diameter: 42mm
Strap/Bracelet: Alligatorskin
Reference Number: PAM046 PAM00046