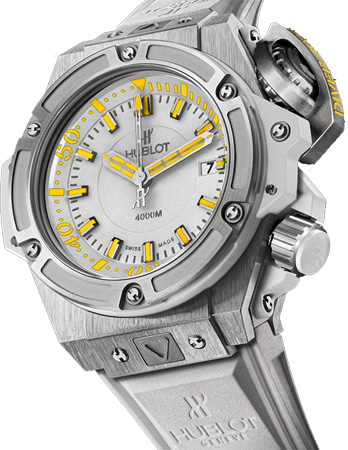 The Hublot Oceanographic 4000 Cheval Blanc Randheli is a pretty exclusive piece of Hublot. Specially made for, and only sold by, Cheval Blanc's Randheli island in the sunny Maldives.
The more and closer I look at this divers watch the more it seems I got to admire it.
Size, looks, technique all fits the requirements to become one of my favourites. Although Panerai is my preferred brand (and Hublot definitely not!) it seems I'm falling in love with this beauty! Simply WOW…
And as mentioned not only the looks are spectacular. If we go over the specs of this eye catching masterpiece the impression get's even bigger.
Hublot Oceanographic 4000
First of all you can't miss the "4000m" written on the front. At first you might think "cool if I could I can take a dip to 400 meter" till you realise you missed a zero… this Hublot stays waterproof all the way to four thousand meters of depth. Even though the Rolex Deepsea Challenge with an impressive 10,908 metres (35,787 feet) still holds the world record, 4000 meter for a production watch is not something you can just wave aside.
Cheval Blanc Randheli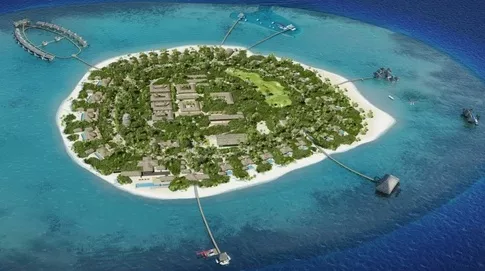 Before we take a closer look to this magnificent watch I'd like to take you on a small tour to the Randheli Resort where the watch is exclusively sold. Even though we aren't a traveler blog nor do we sell luxury apartments it only takes a few seconds looking at the site to understand why this watch is unique in it's sort.
Bear in mind that if you might decide that the Hublot Oceanographic 4000 Cheval Blanc Randheli has to be on your wrist soon, it's price (€20.000) might be considered a small tip compared to the price you are going to pay for a luxury holiday at this resort…
Oceanographic 4000 – The Hublot that stands out
Hublot is renown for their massive watches that (to me) always appear bulky and only seem to fit men that have wrists like Schwarzenegger or similar. The Oceanographic 4000 is not different but because the use of light coloured material on colours on the dial it looks smaller then the actual size.
With it's size of 48 mm diameter and, besides the case of the watch, adding 6.5 mm synthetic sapphire crystal doesn't really make it a small watch. But hey if you want to have a party at depths where only creatures live that most of us never have seen (nor will see) in our life you better take a durable watch… the Hublot Oceanographic 4000.
Titanium holds a Hub1401 self-winding movement
The case is light cause of the use of Titanium. In the case a high quality Hub1401 self-winding movement makes sure you will be able to rely on accurate time even under the toughest circumstances. Of course you want to see when it is time to hit back to the surface on those depths therefore the surface of the dial has a layer of SuperLuminova™. This is a patented luminescent material emitting a yellow colour that you will be able to see on 25cm distance.
Under normal use the hub1401 movement provides you with approximate little less than two full days of power reserve.
The Hublot Oceanographic comes with a helium valve which is mandatory for watches that are able to reach these incredible depths. To finish this masterpiece for the exclusive diver Hublot attached a white rubber strap with a buckle straps to the case. according to themselves this type of fastening guarantees more security than the traditional folding clasp and is easier to handle and close when using gloves which makes sense at depth but not at the Maldives…
I hope the designer of Hublot gets to read this article
Although I honestly think this is a magnificent watch in all aspects like; looks, material, specifications and technical achievement there is one thing that really… but really!… bothers me and I can't understand that somebody with eye for detail let's this happen. Every detail is carefully designed and chosen for perfection. There must be a thought behind it and reasoning for every single handling whilst assembling the Oceanographic. So let's take a closer look at the titanium screws that are of the best quality that you can get your hands on. Really… you fit them like this?!