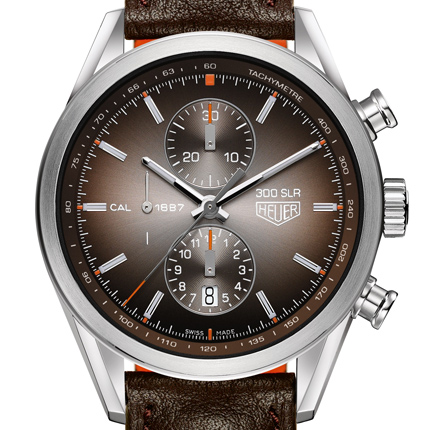 Tell Time in Style with the Tag Heuer 300SLR
Tag Heuer watches have become synonymous with style and high-end quality and the Tag Heuer 300SLR –a tribute to Mercedes Benz– timepiece proves that the watch manufacturer continues their practice of creating timeless pieces that look good on anyone while keeping up with the latest in timepiece technology.
On this particular watch, Tag Heuer included something even more impressive on this limited edition watch an engraved design of the actual traditional mercedes 300 slr is "kind of sculptured" on the back. This is the third version already created for the limited edition "Mercedes Benz series". All models are very different form the other and that is obviously a good thing for the collectors.
Product Features
The Tag Heuer 300SLR watch has many enviable features including:
A partially orange second-hand to create a nice contrast against the brown dial
Double anti-reflective treatment
Water resistant up to one-hundred meters
Luminescent faceted hands and indexes
An anti-scratch curved sapphire crystal
Straps available in leather, fabric, and python or alligator skin
The Mercedes-Benz 300SLR engraved on the back
See the price >>> Tag Heuer Carrera 300 SLR Brown Dial Chronograph
An unique and highly collectible watch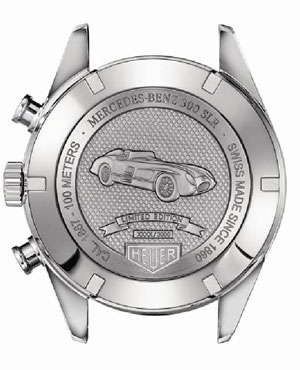 Rather than the standard silver or gold dials, Tag Heuer has created an orange second hand that stands out against the brown dial. This is a nice touch on an already classy looking watch.
The double anti-reflective treatment makes reading the watch easy in bright environments. If you should ever forget to take your watch off while swimming or showering, it is water resistant for up to one-hundred meters so you do not have to worry about your watch being damaged or ruined.
The luminescent faceted hands and indexes provide greater visibility either in the dark or under water. Most people fear that their watches will eventually scratch and get ruined, but this watch has an anti-scratch curved sapphire crystal that is cut from what's known as polished slice of sapphire (solid) which is so durable that only a diamond can scratch it.
The straps of this watch are available in fabric and leather in addition to alligator or python skin—not an option you typically find on a watch. Finally, what makes this watch unique is the engraved mythical Mercedes-Benz 300SLR driven by Fangio that is engraved on the back of it.
Only 3000 sold worldwide
Those who bought the Tag Heuer 300SLR watch were not disappointed with their purchase, featuring:
The tachymeter scale that lets them know the average speed of a car
The chronograph minute at twelve and hour at six
The variety of available straps
The unique brown coloring (which is pretty rare)
Recommendations
Tag Heuer watches do not come cheap but compared with other high-end watches on the market today, they are much more affordable without sacrificing the quality you would expect from this well known brand. If you are looking for something a bit more economical than many other brands, the Tag Heuer 300SLR is a great looking watch with all the modern technology a timepiece should have. (website Tag Heuer)
Specifications:
Movement:
TAG Heuer Calibre 1887, automatic chronograph, date
Dial:
Brown dial with 3 counters, chronograph hour at 6 o'clock, running second at 9 o'clock, chronograph minute at 12 o'clock, luminescent hand-applied faceted indexes, polished hands
Tachymeter scale on flange
Fine brushed and polished bezel
Logo:
Vintage monochrome Heuer logo
Case:
41mm, polished steel, caseback contains an engraved Mercedes-Benz Decoration and Limited Edition XXXX/3000
Glass:
Domed sapphire crystal with double-sided anti-reflective treatment
Water resistance:
100 m
Bracelet:
Brown perforated leather strap with orange lining, steel Heuer folding clasp with safety push buttons