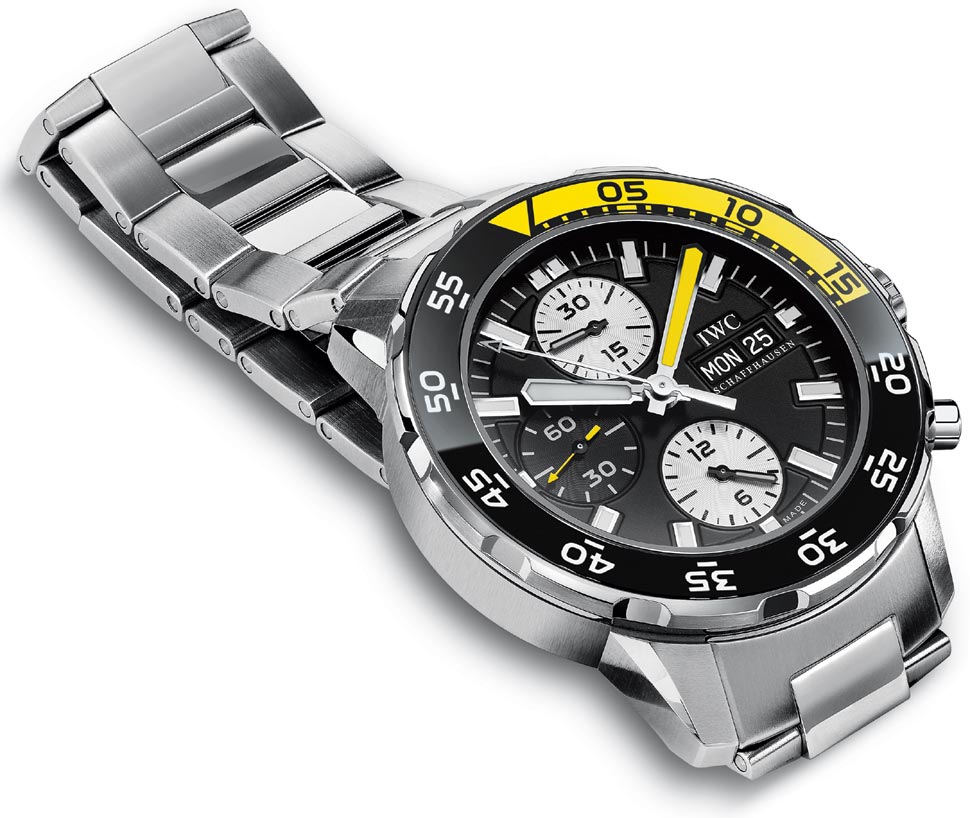 IWC Aquatimer Chronograph: An Innovative Underwater Timepiece
Since 1868, the Swiss company, IWC (International Watch Company), has been making watches with great precision and superior design and they have done just that with the IWC Aquatimer Chronograph watch—proof that nearly a century and a half later they are still innovative and on the cutting edge with this exclusive diving watch.
Update January 2014: The described Aquatimer has been discontinued. New models were released at  SIHH 2014
Product Features
The features of the IWC Aquatimer Chronograph are as impressive as the company that makes the watch:
Water-resistant to twelve bar
Background lighting with Super-LumiNova® luminescent lighting
A yellow-colored arc for the first fifteen minutes of the hour
A new blue and white color combination
Forty-four hour power reserve
Sub dials for the minute and hour are colored to tone with the dial's color
Aqua or on the surface – where to wear your Aquatimer?
The whole purpose of this great watch is to wear it while under water—specifically when diving. So its twelve-bar water-resistant capability is highly desirable. The Super-LumiNova® technology is a special luminescent coating that is on the underside of the watch so you have plenty of time during a long dive to see the time– no matter what the lighting conditions are or if it is dark during your dive.
The yellow-colored fifteen-minute arc on the face of the watch allows an extended period of time for you to see your watch and tell the time, since yellow is a color that is still very visible under a significant amount of depth under water. IWC Schaffhausen has also introduced a new color pattern of blue and white for variety.
With a forty-four hour power reserve, you have nearly two days before you need to worry about your watch not working so you will not be long without it. Finally, having different colored dials for the minute and hour counters makes reading your watch under water even easier.
See the price >>> IWC Aquatimer Chronograph Mens Watch IW376709
Why divers should be interested in this watch
Those who purchased the IWC Aquatimer Chronograph were impressed with its underwater features like:
The high visibility under deep conditions
The self-winding feature
Rubber strap options in black and blue
A double push-button safety clasp on the stainless steel models
Recommendations
If you or someone you know is an avid diver or enjoys leading an active life under water, then this watch is made just for that reason. With the IWC Aquatimer Chronograph, you will spend more time enjoying the deep seas and less time worrying about the time.
Non divers
Like with most of the so called "divers watches" it is no shame to wear them when you aren't into diving. I would even estimate that 80-90% of the watches that originally were made for divers are worn by people that never dive.
As a fashion item, jewelry or just as a watch to wear the IWC aquatimer isn't the worst one out there. You want to be seen with this one! (Website IWC Aquatimer Chronograph)
Specifications:
CASE MATERIAL:
stainless steel hieght 15mm width 44mm
Glass:
Sapphire glass, convex, antireflective coating on both sides
BRACELET/STRAP:
stainless steel bracelet – quick-change system
DIAL COLOUR:
black, date and day display, small hacking seconds, luminescent elements on hands, dial and external rotating bezel
JEWELS:
25
CALIBRE:
79320 self winding
Power reserve:
44-hour power reserve when fully wound
Water-resistant:
12 bar – 120 mtr