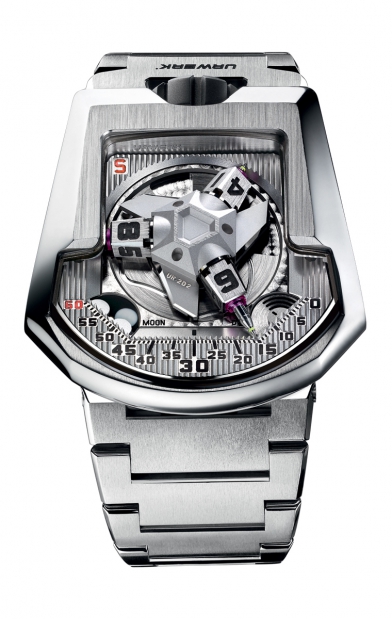 The URWERK UR202S – Truly Magical
The UR-202 has been resurrected into a new model of exclusive watches through the cooperation of URWERK and Maspoli, into the UR202S. It is nicknamed "The Hammerhead."
"It has also been called "The Hammerhead, Full Metal Jacket."
The bracelet, manufactured by Maspoli, requires eleven steps to complete. It has twenty-two links, and only six are like any others. It is the ultimate in their line.
S… for… Superman?!
The "S" in the name refers to the stripes on its face. The stripes are 3-D vertical lines, which give the face a unique, dimensional look.
A special machine was obtained to enable them to make these raised lines. They are able to machine over 80% of the components using this special machine. This enables them to get the exact product they want without having to depend on another manufacturer.
"Jet technology"
This Urwerk watch employs jet-age technology, with components whose names sound much like that of a jet engine. Instead of the air friction technique of controlling winding, it uses twin turbines. These miniature turbines regulate the rotors that drive the winding process. This method of winding insures time-keeping accuracy. Also, the twin turbines can be controlled by a lever to serve as shock absorbers. This improves wear and tear protection and an increase in life span.
Turbines and more
The turbines have three possible positions. One is for normal wear. There are also vigorous and extreme activity levels that limit the winding ability of the turbines and rotor in order to protect the mechanism. These positions correspond, respectively, to free, sport (slower), and stop, referring to the amount of movement allowed in each position.
Hours, minutes, and moon phases are indicated on the face. Also, there is an indicator that shows day and night. It has a revolving satellite mechanism to indicate the hour, and the minute hands telescope, which is visible on the lighted dial. The lighter dial gives a special presence to the model, making it look lighter than normal. It is truly a marvel in leading-edge technology.
UR202S full of intelligence
The time display on the dial is depicted by telescoping minute hands and three orbiting satellites that show the hour. The minute hands telescope to allow a choice of greater visibility when extended, or a more compact look and comfort when retracted. No other model has the same technology and display as the URWERK UR202S.
The case and bracelet come in white gold, red gold, stainless steel, or titanium aluminium nitrite (ALTIN) for beauty to suit your choice. In my opinion, the beauty of titanium can't be surpassed, but many prefer the traditional richness of red gold. The polished stainless steel, however, is a beautiful piece as well. Take your pick.
This piece is very exclusive, as only fifty pieces will be available worldwide. This is common for this company, who also has made some specially engraved pieces of a different model for which only 20 pieces were made available. So, you can know you have one of only fifty when you obtain one of these exclusive watches.
Though this model, the 202S, is the epitome of the URWERK line, there are many fine models as well in the 202 line.
Urwerk UR line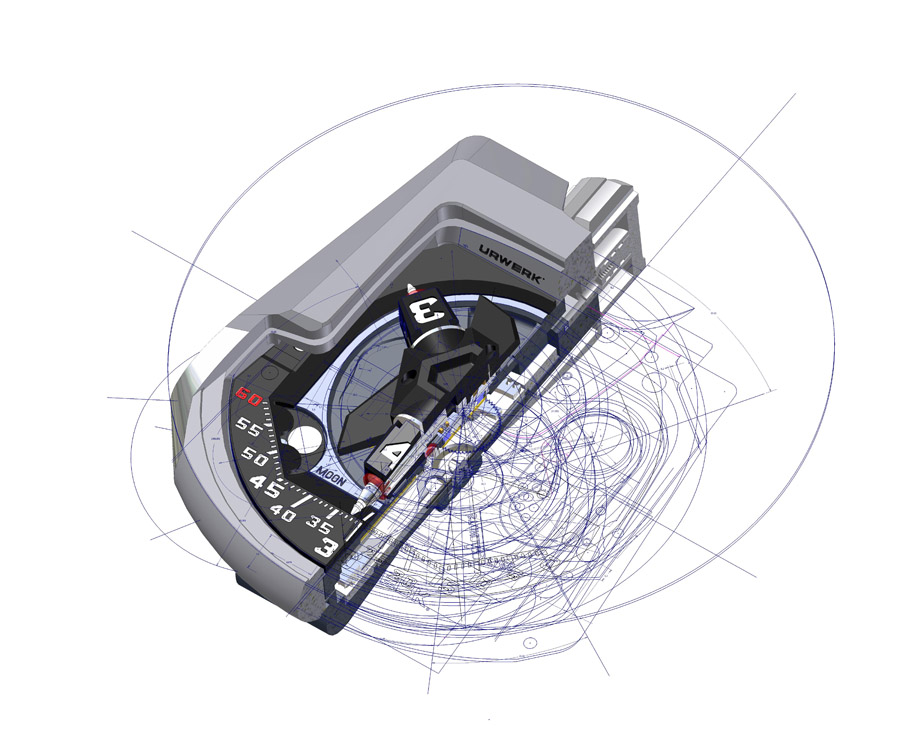 One of the earlier ones was a favorite of many. It was the White Shark. Again, only fifty pieces were made of this design.
The original UR-202 was also available in gold, stainless, and titanium alloy. The UR203, in black coated platinum, was specially engraved and was limited to 20 pieces. All these have limited availability in specific cities.
This watch has appropriately been call magical. The space age technology is far above the ordinary. Its large sapphire crystal reveals its unique construction, making it a conversation piece, one to be envied by all. Available wrist shots showcase the exquisite beauty and technology involved in its construction.
Watches have become a fashion statement. They serve as fashion accessories to complement a look. With the different metal colors, and the beauty of this piece, along with the leading edge technology involved in its making, it becomes one totally awesome fashion statement. It is a dream piece that anyone would be proud to own.
Futuristic but in my opinion still contemporary
Whether you are looking for a fine timepiece to keep accurate time or to make a fashion statement, look no further. You have found it with this timepiece. As a sports or fashion watch, it fulfills the purpose and more. With its space age technology, which is highly visible, this piece becomes a conversation piece that will be admired by all. It has been called the Rolls Royce in timepieces, and it lives up to that description. With the limit of fifty copies total, it is truly one of the exclusive watches.
Specifications: