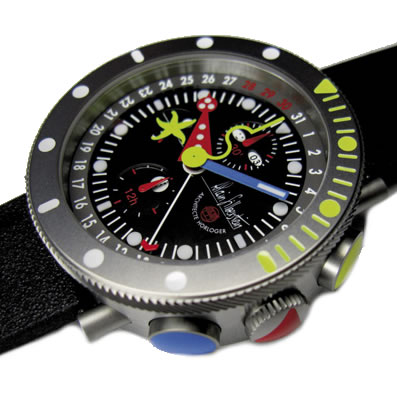 Alain Silberstein- Marine 20 Titanium
Watches crafted from ultra-strong and lightweight Titanium are a pleasure to wear, and they always have a sleek and masculine air. Since I'm fond of titanium designs, I was very happy to discover the Alain Silberstein Marine 20 Titanium wristwatch.
Stylish with fun design elements
This charming and whimsical luxury timepiece features some fun design elements, including a starfish motif in bright yellow. If you enjoy oceanic and nautical themes, you will probably find this timepiece as fascinating as I do. A fun, Pop Art vibe is exuded in this particular make and model, so it`s a bold choice that is perfect for men who appreciate something a little bit different from the norm.
Often, expensive, high-end timepieces have a serious look, rather than being playful. The Marine 20 Titanium is different in this respect, as it offers a sense of fun, rather than being over-serious, stuffy and reserved.
Arabic numerals decorate the watch face, adding a bit of sophistication that balances the more lighthearted elements of the piece. To add more impact, Alain Silberstein`s craftspeople have added a rotating bezel. Glowing indexes make the watch very luminous and simple to read.
What Makes This Particular Watch so Special?
Perfect to wear with casual clothes or while pursuing watersports or other nautical activities, this appealing, water-resistant design has a modern black rubber bracelet, a light-as-air titanium watch case, and a range of cheery and colorful enamel accents that really set it apart from the rest.
See prices >>> Alain Silberstein Marine Titanium Limited Edition
Balanced mix of colors and design features
The watch is black, with exciting color accents in red and yellow enamel. The overall effect is pleasingly current. There's nothing old-fashioned about this watch, which has a very youthful spirit. Trying on the Alain Silberstein Marine 20 Titanium made me feel happy, and that's exactly what wearing a luxury wristwatch is supposed to accomplish.
Even the watch`s dial is adorned with a splash of bright orange-red that calls to mind underwater coral reefs. A relatively chunky watch case gives the timepiece significant visual impact. Since titanium is so comfortable due it its light weight, wearing this larger luxury watch is a very comfortable experience, and it will never, ever get lost on your wrist.
Sometimes, having more than one expensive timepiece is a real pleasure. If you already have a more formal timepiece to wear with business attire or formalwear, choosing a watch like this one for your casual togs will be a great idea. I know that this wristwatch would be great fun to wear with my beach-y separates, jeans and deck shoes. If you`re into scuba diving, boating or swimming, you`ll find this timepiece particularly appealing.
Nice video of the Marine 20 Titanium
Features of the Alain Silberstein Marine 20 Titanium Wristwatch
Featuring an automatic movement for unparalleled ease of use, this wristwatch is crafted from titanium. Each design has a rubber strap that is durable, rugged, and smart-looking. The strap takes its cue from neoprene scuba gear, offering a touch of high-style that coordinates perfectly with the unique design theme of the watch case. A secure, double-fold clasp is used to ensure ideal grip and a custom fit. A sapphire crystal cover makes sure your dial and fun designed hands are well protected.
Specifications:
Case:
Titanium case 45mm diameter with rubber strap
Movement:
ETA 2892-J Self-winding
Complications:
Hours, minutes, seconds, rotating timer bezel
Waterproof:
200 meters