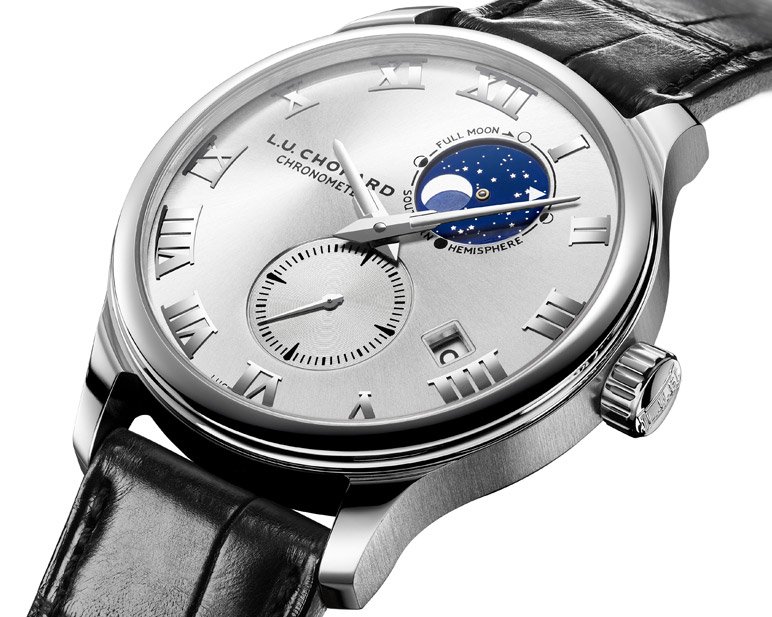 Chopard – L.U.C Lunar Twin
A soothing expanse of white gold, accented with a touch of dreamy midnight blue enamel, adorns the Chopard L.U.C. Lunar Twin's exquisite watch face, offering owners (and those, like me, who simply covet this beautiful wristwatch) a touch of serene beauty that is so calming and inspiring.
When I found this elegant design available on an online watch auction, I was bewitched by the complexity of its precision movements and by the unforgettable decorative accents included on the watch face. Al harmonious blended into one single piece of pure timekeeping and displaying…
The beauty of the L.U.C. Lunar Twin
The L.U.C Lunar Twin features a tiny, silvery crescent moon that is set into the "night-sky blue" circular lunar movement. This little moon (and a few glittering stars for good measure) adds significant charm (and a touch of whimsy) to the piece.
The watch's lunar movement matches the lunar cycle very precisely, and this unparalleled precision is one of this exclusive timepiece's key features. Of course, this wristwatch has so much more to offer, both in terms of beauty and performance. For example, moon phases for the Northern and Southern hemispheres are indicated on the watch through a series of lovely markings that surround the circumference of the lunar cycle movement. The manufacturer managed to create perfection, it's rotation is completely in line with the real lunar cycle. According to calculations predicted by computers the watch needs to be adjusted only once every 122 years.
Intricate in design, yet so peaceful to gaze upon, the Chopard L.U.C. Lunar Twin is elegant in the extreme, and it allows owners to enjoy a touch of "starry night" beauty every time that they look at their watches. This is the type of luxury timepiece that really touches your heart, and it's definitely one of my "dream watches".
Making watches since 1860 and still getting better

Chopard, a Swiss company founded in 1860, also produces fine jewelry and accessories, so this respected watchmaking firm definitely understands how to use motifs and inlays in the most expert manner, in order to add superb richness and dimension to their timepieces.
Indeed, this stunning luxury watch has the feeling of fine jewelry, although its design is very restrained, subtle, and wearable. In fact, I would describe the Chopard L.U.C. Lunar Twin as being an ideal balance of beauty, science and high technology. For those who admire the mysteries of the night sky and the wonders of outer space, this refined wristwatch is the stuff of fantasy, and, although it costs a pretty penny, it's an investment piece that is bound to give a great deal of pleasure over the years.
Designed to add panache to tailored business suits, formal wear, or casual attire, the Lunar Twin is the epitome of European luxury. Traditional at first glance, this top-tier wristwatch is also very innovative, unique and original, so it fulfills a range of requirements. This timepiece is really incredibly versatile.
Features of the Chopard L.U.C. Lunar Twin
Each L.U.C. Lunar Twin is water-resistant to a depth of 30 metres, and each design comes with a handmade strap crafted from elegant, black alligator leather. The strap also features 18-karat gold accents for more quality and richness. The watch face of this beautiful design measures 40mm, and it's made from 18-karat white gold. Rhodium watch hands sweep over elegant, multi-toned Roman numerals, and a unique "sunburst", satin-brushed dial seems to glow when the light touches it.
Specifications:
Case:
18-carat white gold, 40.00mm x 9.97mm, exhibition case-back
Water resistance:
30 m
18-carat white gold crown with L.U.C logo:
6.50 mm
Glass:
Glareproofed sapphire crystal
Movement:
Mechanical self-winding L.U.C 96.21-L
Number of jewels:
33
Power reserve:
65 hours
Dial and hands:
Sunburst satin-brushed silver-toned dial, rhodiumed hour, minute, small seconds hands and hour-markers
Functions and displays:
Central hour and minute display, small seconds, date at 4 o'clock, moon phases
Strap and buckle:
Hand-sewn matt black alligator leather strap with black coloured alligator lining, 18-carat white gold pin buckle