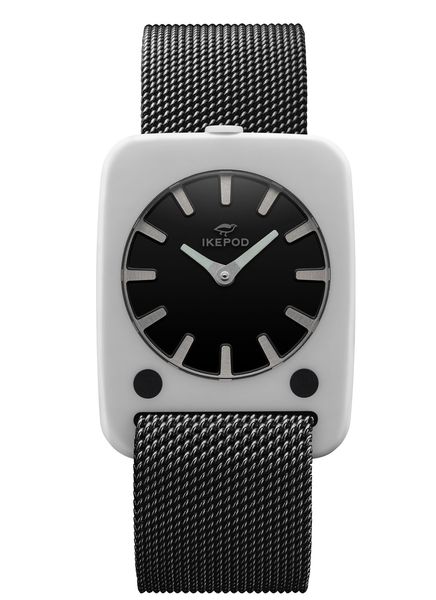 Enjoy Futuristic Style with the Ikepod Solaris Luxury Timepiece
Created by an Australian designer with a taste for futuristic glamour, the dazzling Ikepod Solaris is meant to be enjoyed and admired for a lifetime. This luxury and valuable timepiece is sleek, simple, and the perfect complement to menswear with clean and fitted lines.
If you're into minimalist style, you already know that less is definitely more, and this watch may intrigue and fascinate you. The unique and innovative design of this timepiece certainly captured my own interest as soon as I laid eyes on it.
Once I saw this design up close at a reliable watch dealer, I really wanted to see it on my own wrist. Simply because it's just so charming and original. Fun, yet extremely refined, the Ikepod Solaris is an expression of quirky personal style that will suit men from any walk of life. From engineers to artists, everyone will find something to appreciate when they contemplate this stunning, square-shaped timepiece and its many exciting features.
Which face are you wearing today?
Mark Newson is at the helm of the Ikepod brand, and he's used his formidable talents to create a signature timepiece that features a distinctive, chunky watch case that is available in basic black or pure, icy white. If I had a choice, I'd opt for both colors (after all, who can choose just one?), and then use each wristwatch to add a touch of ultra-modern style to my casual or business outfits.
But here is the trick, with the Solaris who needs two watches in different colors? Nobody as it comes with two faces, complete with their own dials and second time option. Frequent flyers pay attention, never set your time again. Just turn your Ikepod Solaris.
Whether you're a hipster or a high-fashion maven, you're bound to covet this exceptional example of postmodern, arty design. This timepiece has a delightful sculptural element, and it's also surprisingly comfortable to wear. A sinuous woven strap made of metal mesh adds just the right touch of texture and dimension to this luxury watch, and it also guarantees a perfect fit that always feels just right.
The Solaris not just any watch…
Named after the sci-fi flick, Solaris, this watch is inspired by this popular movie, and it truly captures the pioneering spirit of space exploration and high technology. If you've dreamed of a whole new world beyond our own planet, you're on the same wavelength as the watch's creator, and you may find this unusual design very diverting. When it comes to the style of the future, it's all about form following function, and this watch embodies that design philosophy in every way.
Uncluttered and so easy to read, this luxury timepiece features simple dashes, rather than numerals, and it's free of the usual complement of technical gizmos (such as sub-dials and visible watch movements) that you'll often find on showier wristwatches. If you prefer to keep things basic, functional, and refined, you'll enjoy everything that the Ikepod Solaris has to offer.
Not only looks but also body
Rest assured that this watch also has the performance that you need, since it's been crafted with exquisite care. As this timepiece would look great on display in a modern art museum, it's definitely a showpiece that is meant to be talked about. If you love a watch that grabs plenty of attention, without being really ostentatious, this witty and inspired design will offer you so much pleasure.
Features of the Ikepod Solaris
Adorned with German metal bracelets, Ikepod Solaris wristwatches (which are available in limited quantities only) also come with reversible faces. You may set different time zones for each face, and then choose the proper side to enjoy accurate time based on your current location. This fun feature adds functionality and charm to the timepiece. Since each watch face has its own movement, it operates completely independently of the other. According the timepiece designer, this feature is symbolic of duality.