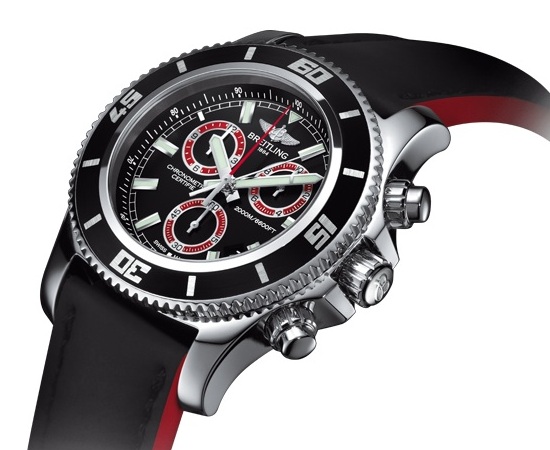 Breitling Superocean Chronograph M2000
The Superocean M2000 is quite simply a stunning watch, and could well be the centerpiece of any collection. I must admit, I was sold on the fact that it is waterproof to 2000m.
Now, it's probably worth mentioning that 2000m is far beyond the depth that a human being could dive without a protective suit, to deal with the incredible water pressure that would be bearing down above them. Even the most experienced divers rarely venture beyond 100m.
I should also probably mention that I'm actually a diver and the deepest I went was only 50 meters. Still, to be owning one of the solid diving instrument watches in the world definitely appeals to my sense of wonder.
The Super-ocean an attractive watch
The Super-ocean has a fantastic story to tell about being capable of withstanding extreme depths, even if I'm not actually planning on venturing 20,000 leagues under the sea!
In addition to the capacity for implausibly deep oceanic exploration, the Super-ocean is a very attractive watch. It has the standard three-dial chronometer function that you see on the faces of most Breitling chronometer watches, but the dials are outlined in a vivid red, which matches the red back of the black leather strap.
That little splash of color makes the watch distinctive, but the bezel is by far the favorite feature. The cool, obsidian black has silver markers, but the really eye catching thing is the typography of the metallic numerals. The font used is impeccably cool, with a really sporty, modern and powerful feel.
The Superocean is an extremely versatile watch, which could be worn on almost any occasion and with any outfit. It looks just as good with a suit as it would with a pair of jeans. It's by far the watch I would wear mostly on casual events though. A good watch to wear it every day at work for example
The striking red accents make it fun enough to hold weight on a night out, but the sharp styling means it's not too flashy for a formal occasion. I'd say it might be a slightly brave and fashion forward piece if you are used to more classic and understated styles, but for me it doesn't cross the line and remains extremely tasteful.
Breitling the inventors of the modern chronograph
Personally I don't use the chronometer function that my personal collection of watches have, but it could be very useful if you are trying to time your swims or dives. The chronometer is activated by a magnetic push button on the case, rather than a standard pusher as is normally found on dive chronometers. I can see this being incredibly useful underwater, as you won't have to mess around with unscrewing as you would with a normal pusher.
As you would expect from Breitling, the build quality of this watch can't be criticized. It is an absolutely superbly constructed, precision piece that will last a lifetime, or even beyond. Even the glass over the face is extremely tough sapphire crystal. Breitling timepieces are the type of objects that can be passed down through the generations, and the Superocean is likely to last over a few.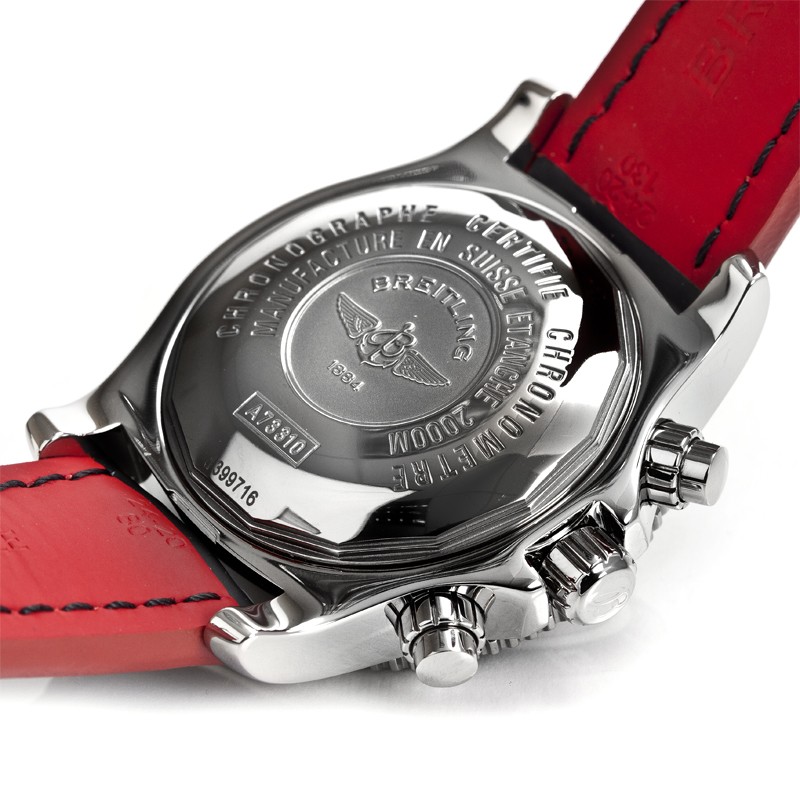 As well as the physical toughness, the mechanical tenacity of any Breitling model can't be understated. These innards of these watches are truly constructed to the most exacting standards, with precision elements working in tandem for impeccable accuracy.
Of course most watches in this price range have well constructed and highly reliable movements, but the mechanical pedigree of Breitling watches is one of the main selling points. For sure those that are familiar with Breitlings quality can confirm that, as you would expect, the ever let you down.
I think that wearing a watch like the Super ocean is a bit of a statement. It's definitely youthful, with a real sporty energy, but it's also got a classic feel that looks back to the past. It's perfect for a man who is experienced in life, someone who doesn't want to lose the energy of youth, but wants to project a mature and considered style. Therefore the ideal watch for me! For sure it certainly gets a lot of respect and a lot of comments.
Breitling, high standard and great models
Breitling are very highly regarded and well known for their superb pilots watches such as the Navimeter, but the Superocean is a step away from that type of style and functionality, while retaining all the elements that make it great.
It's a great choice for anyone who was considering one of the better known Breitling watches such as the Navimeter or Super Avenger but is looking for a more unique and distinctive piece. I have several friends and colleagues who own a Super Avenger of some kind, and it's great to hear that they also consider to own a Breitling but one that is set apart from the more common models.
Technical specifications:
Caliber: Breitling 73
Movement: Thermo-compensated SuperQuartz™
Chronograph, 1/10th second, 60 minutes, 12 hours with split times by fly-back hand, Calendar, Dial aperture
Case: Steel
Water resistance: 2000 meters/200 bars
Bezel: Unidirectional ratcheted rotating bezel
Crown: Screw-locked and magnetic push pieces
Crystal: Cambered sapphire, glare-proofed both sides
Diameter: 46,00 mm
Strap/bracelet: Barenia leather, Superocean leather, rubber Ocean Racer (perforated), rubber Diver Pro (with raised central ridge)/Professional III