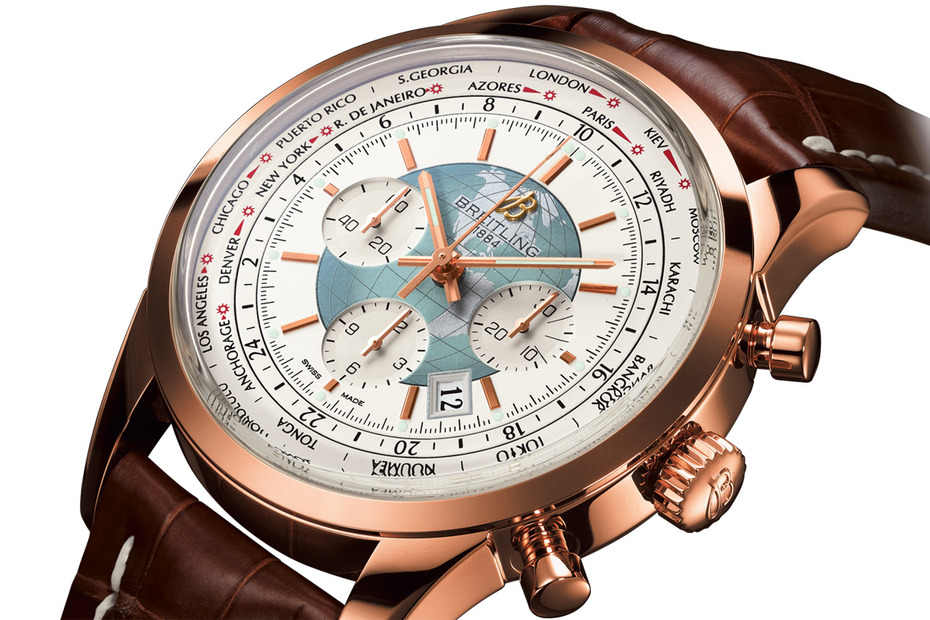 Breitling – Transocean Chronograph Unitime
The stunning design of the Breitling Trans-ocean Chronograph Unitime calls to mind the beauty of vintage maps and atlases, and this luxury wristwatch also delivers superb performance.
This universal time model features in-house movements and mechanisms that are exclusive to this Swiss-based watch making company, making it possible for owners of this stellar design to read the time in every global time zone. For travellers, boating enthusiasts (or those who are only adventurous in spirit), this high-style, dazzling wristwatch really has it all.
Global time captured in the blink of an eye
The most impressive style element of this stunning timepiece is a beautiful globe motif that rests in the center of the watch face. A perfect mixture of azure blue and creamy white, this elegant, beautifully detailed globe inlay is the backdrop for a trio of sub-dials that offer the very best in functionality and performance.
Around the circumference of the watch face, city names are listed in refined lettering that adds even more richness and dimension to the piece. These city names may be customized for a range of different languages, making this watch an ideal choice for discerning clientele from all over the world.
Overall, the effect is one of total sophistication, worldliness, and adventure. The wristwatch has a classic, vintage-inspired vibe, due to its bronzy-gold finish and its brown leather strap. Trying on this design gives one a hunger to visit new places and to explore new experiences. It also calls to mind the seafaring adventures of generations of sailors and explorers.
However, the watch is quite subtle and refined, so it`s not too showy or grand. Since I appreciate high style that isn't too ostentatious or overdone, I really appreciate this timepiece`s special qualities.
This Watch is the Perfect Blend of Form and Function
Elegant and perfectly composed, the various movements on the watch face are works of art, in and of themselves. When viewed as a whole, these elements are balanced and cohesive. This symmetrical wristwatch is also available with a special, silver mesh strap for a touch of rugged style.
Breitling is known as a preferred watch brand for athletes, pilots, sea captains, and engineers. The remarkable features in the Breitling Transocean Chronograph Unitime are custom-made to deliver the sort of expert performance that has made this company such a player in the luxury timepiece marketplace. Precision movements are displayed under a cover of scratch-resistant sapphire crystal, and the watch is adorned with an alligator leather strap in rich, chocolate brown. The watch case is finished in a pleasing antique gold finish.
Features of the Breitling Transocean Chronograph Unitime
Equipped with an in-house caliber known as the Breitling 05, this watch also has a self-winding, high-frequency movement. Each model has a power reserve of 70 hours and a vibration of 28 800 v.p.h. This 56-jewel design is water-resistant to a depth of 330 feet, not really a superlative choice to use at scuba diving and outdoor activities, but hey it is possible if you want. Measuring 46 mm in diameter, this stunning and masculine design features a convex sapphire crystal.
Specifications:
Movement:
Caliber Breitling 05 (manufacture), Selfwinding, high frequency, 28 800 v.p.h
Power reserve:
Over 70-hour
Chronograph:
1/4th second, 30 minutes, 12 hours
Jewel:
56 jewels
Case:
Steel or 18K red gold 46,00 mm
Water resistance:
100 meters (10 bars)
Crystal:
Convex sapphire crystal, glareproofed on both side
Strap/bracelet:
Barenia leather, crocodile leather/Ocean Classic (steel mesh, steel version only)