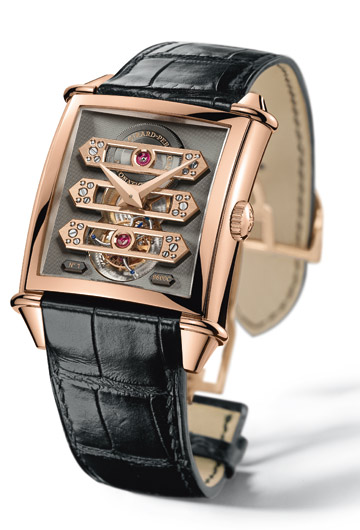 Girard Perregaux Vintage 1945 Tourbillon with Three Golden Bridges
Sometimes, even the most luxurious , exclusive wristwatches all seem to have the same kind of look over them. When I discovered the Girard-Perregaux Vintage 1945 Tourbillon with Three Golden Bridges, I realized that I'd come across an extraordinary design that doesn't have even a hint of generic style. No wonder there are only 50 made of this exclusive timepiece.
Made to stand out and to inspire conversation and admiration, this dazzling and exclusive timepiece's case and triple bridges are crafted of rosy pink gold that echoes the beauty of a particularly stunning sunrise.
The bridges (that seem to be "floating") are without a doubt the most eye catching feature on this watch (and loads of others too). According to officials at Girard Perregaux crafting the bridges alone takes seven days of manual labor.  And bear in mind this are only three of 72 components that complete the marvelous watch.
Rose, the new color for gold
The pink rose tone of the watch is the first clue that this design is really something special. However, its rare and unusual color is only the beginning of what it has to offer.
Coated in anthracite for a smooth, low-shine finish, this watch has all of the restrained elegance of platinum, even though it's made of precious gold. Contrasting accents, such as the main watch plate, add even more richness and dimension to the piece.
This innovative anthracite finish is added through a delicate process that may only be performed by the best craftspeople, so it's just one more example of how much effort, love and care goes into creating every single one of these limited-edition wristwatches.
Combination of Art Deco and a stylish futuristic look
Designed to evoke the beauty of the best Art Deco sculpture and architecture, this beautiful wristwatch is ornate enough to please even the most discerning Art Deco aficionado. Of course, its vintage style doesn't mean that it's not a high-performance timepiece with all of the bells and whistles. This watch does it all, and its exquisite craftsmanship is definitely second to none.
Three Golden Bridges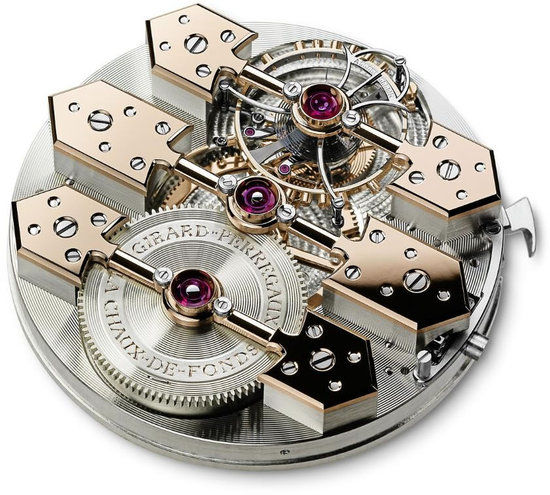 The watch's three rose-golden bridges set it apart from the rest of the pack, and these polished marvels add incredible style and uniqueness to the Girard-Perregaux Vintage 1945 Tourbillon timepiece.
The geometric bridges glimmer under a sapphire crystal cover, where their open-work design (each bridge is hand-guilloched) may be easily admired. Each bridge takes a week to make, so these design elements do make this particular timepiece incredibly special.
Only fifty of these special watches were created, so there is also an element of exclusivity here that you may not find in other high-end wristwatches. If you want something that almost no one else has (and this is something that personally really appeals to me), you'll love knowing that only a handful of these exciting, vintage-inspired pieces were ever created and found there way all over the world.
In a nutshell, this watch is very different from other watches, and it will always fascinate. Its curved, rectangular case conforms to the contours of the wrist, offering a perfect fit that makes the watch a pleasure to wear. A shiny strap in black alligator leather completes the striking effect, by offering a touch of dark color that highlights the paler beauty of the rose gold case and bridges.
Features of the Girard-Perregaux Vintage 1945 Tourbillon with Three Golden Bridges
Each watch is equipped with a tourbillon system that contains over seventy components. In addition, this wristwatch features a self-winding caliber GP600 movement with a built-in micro-rotor beneath the barrel. This special movement is patented by the company, and owners of these Art Deco-inspired timepieces may observe the movements' workings through a transparent back cover, which is also crafted from sapphire crystal.
Specifications:
Technical specifications
Case:
Pink-gold with domed anti-glare sapphire glass
Back:
Anti-glare sapphire
Dimensions:
36.10 mm x 35.25 mm
Water resistance:
30 meters
Crown:
Pink gold, engraved with GP logo
Dial:
Matte anthracite surface treatment (NAC) on the mainplate
Hands:
Gold regatta, diamond polished
Movement:
Girard-Perregaux 9600-0019,
Mechanism:
Self-winding
Functions:
Tourbillon, hours, minutes
Dimensions:
28.60 mm x 30.30 mm x 3.20 mm
Jewels:
31 jewels
Power reserve:
Minimum 48 hours
Winding:
Automatic, hand-brushed platinum rotor, 21,600 vibrations/hour (3 Hz)
Strap:
Alligator strap with folding clasp in pink gold
Components
Number: 257
Balance wheel: variable inertia with gold regulating screws (diameter 8.35 mm)
Balance-spring: Breguet, Philips terminal curve
Mainplate: anthracite (NAC) surface treatment, vertical guilloché on top,
pearling and guilloché below, hand-polished angles
Lower gear train bridge: vertical guilloché, hand-polished angles
Barrel: engraved cover with hand-applied circular guilloché and brushing
Rhodium-plated barrel, central and tourbillon bridges: in gold, hand-polished angles
brushed top and edges
Tourbillon:
– 72 components weighing a total of 0.3 grams
– one rotation per minute
– upper and lower carriages beveled and polished by hand
– escapement and pallet bridges beveled and polished by hand