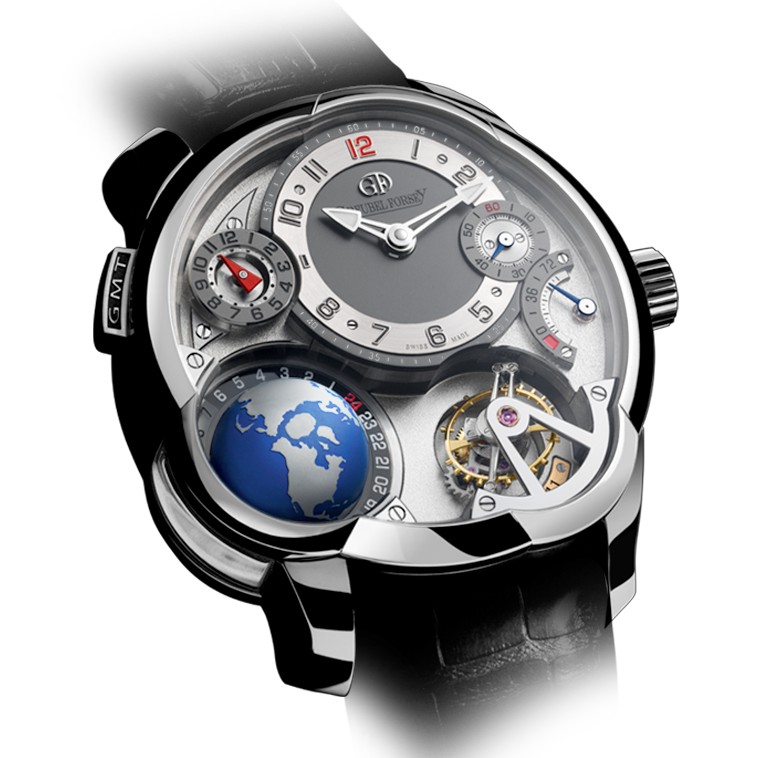 Greubel Forsey GMT
Watches with complexity, style and a host of precision mechanisms are beautiful to behold, and the Greubel Forsey GMT is a perfect example of this type of high-end, sophisticated luxury timepiece.
<<< This masterpiece shows true complication… in it's finest detail and perfection
When I first saw this incredible wristwatch, with its moving elements and touches of bright color, I was struck by the perfection of the design, which features a series of multicolored circular movements arranged in a stunning array upon the watch's face. This one is definitely in my personal top three and maybe… just maybe… even on the prime spot! The one thing form keeping me to add this one my collection is… sufficient funds!
Eye catching globe feature in 3D
One important design feature that immediately caught my attention was a beautiful, three-dimensional globe motif that provides a picture of time all over the world. Four circular movements (and one semi-circular movement) decorate the watch's face, but the effect is not crowded at all. In fact, this exclusive wristwatch seems perfectly balanced, and the movements of the timepiece are each works of art in and of themselves.
Beautiful Color and Intricate Design
The watch face is a wonderful melange of different tones, such as the case in white gold, red, white, and blue. However, color is used in small accents that add vibrant beauty without overwhelming the calm and serene effect of this watch's design.
If there ever would be a watch that would be set as an example for the word "complication" it is most likely that this model made by Greubel Forsey would score a 10+.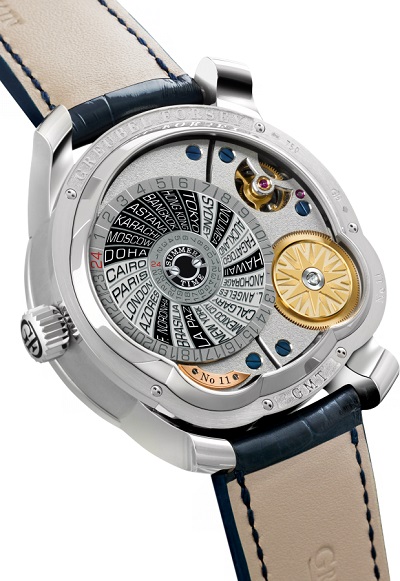 On the back of the timepiece, a stunning circular movement that features the names of many world capitals is a central design element that offers watch owners instant access to detailed time zone information.
This unique feature is beautifully engraved, and it is crafted from the finest materials for a luxury look that is truly timeless.
For sure it will be hard to find a exclusive watch that looks even better on the back than most watches on their front. It isn't reversible but if it would be you wouldn't need to be ashamed to wear this magnificent timepiece  "bottoms up".
The features on the Greubel Forsey GMT Tourbillon
Left top – Second time indicator
The 12-hour second time zone dial at 10 o'clock indicates the time in a designated second time zone and is easily adjusted using the quick-set, dual-function pusher on the case band.
Middle next to the crown shows the Power reserve
Cascading clockwise from 12 o'clock is the main hour-minute dial, on which is mounted a small seconds dial and a sectorial power reserve indicator at 4 o'clock.
Bottom right – Tourbillon 24 Secondes
The GMT features a 25° inclined Tourbillon 24 Secondes cage, one of Greubel Forsey's major patented inventions.
Bottom left – Rotating globe
A wonderful three-dimensional temporal representation, this rotating globe offers a truly original view of time all over the world and a new way of perceiving different time zones.
Left on case – Dual-function Pusher
The quick-set, dual-function pusher at 10 o'clock on the case band adjusts the 12-hour second time zone and is also used when reading the globe to indicate 24-hour world time.
Greubel Forsey, a young company with fresh ideas
Greubel Forsey is a Swiss watchmaking firm that was created in 2004. The GMT design made by this firm is really its signature piece, due to its beauty, practicality and richness.
Suffice it to say that this is no ordinary timepiece. As I've mentioned earlier, one of the watch's most impressive style elements in its time zone movement, which features a dial that allows watch owners to calculate the time differences for a range of world capitals, such as London, Cairo, Calgary, Sydney and New York.
Here is what Greubel Forsey say themselves about this feature:
"A world time disc connected to the globe bears the names of 24 cities, each representing one of 24 global time zones. To facilitate setting, cities not using summertime are on a dark background and time is read on the outer chapter ring – The sun, when setting the worldtime disc a resplendent sun on a golden gear serves as a useful visual reference for midday and radiantly lights up the movement".
For world travelers, this wristwatch is practical, yet unbelievably luxurious. Learning to master all of the features found on this watch will be easier than it looks, as the timepiece is expertly configured in order to promote ease of use.
This watch really embodies the spirit of exploration and global adventure, and it also features a distinctive asymmetrical case that offers even more uniqueness and visual impact. Modern and original, the Greubel Forsey GMT is a special collector's item that is different from all of the rest. Of course, it's also a supremely functional wristwatch, and its global time zone dial is just one of many useful features that you will find on this exclusive timepiece.
The Greubel Forsey GMT in close-up
Specifications:
Since this extra ordinary masterpiece comes with even so impressive specifications I've decided to upload the original pdf that can be found on the Greubel Forsey website, you can read the specs by clicking here.