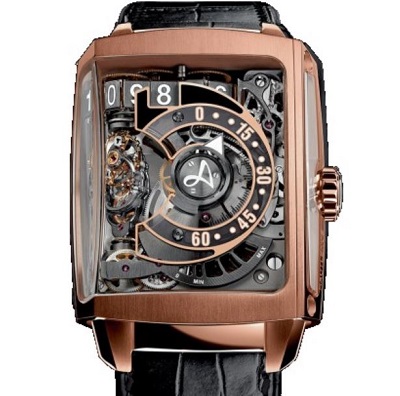 Hautlence – HL2.0 Limited Edition
When I discovered the intriguing beauty of the Hautlence HL2.0 Limited Edition wristwatch, I was hooked, because this luxury timepiece is truly something out of the ordinary.
If you enjoy elegant and valuable watches that literally change the way that you look at time, you'll also enjoy learning more about this stunning, rich and dimensional design, which seems to evoke all of the intricate appeal of Da Vinci drawings or vintage maps and atlases.
By offering consumers access to something very different, and by creating the ideal blend of art and science, Hautlence have carved out a unique niche in the marketplace, and they've gained many fans (I certainly count myself among them) due to their strong, distinct and unforgettable styles.
The HL2.0 from Hautlence, only for the chosen few…
This particular model manages to be subtle and elegant, while also being a fascinating conversation piece. Due to its colorful accents, fine details, and precision mechanisms, the HL2.0 Limited Edition may well be considered a modern masterpiece.
The Hautlence watchmaking company was formed in 2004, and its corporate credo is all about showcasing the beauty of perfect mechanisms and exacting movements.
By highlighting the form and function of each watch element, the creators of the Hautlence HL2.0 Limited Edition have pushed the envelope. Since this open-work design spotlights the patented Hautlence movement, it is clearly the centerpiece of the design, and it is quite beautiful to behold.
Short clip of the HL2.0 complications
Color is used to heighten the visual impact of the movement and its background, and these carefully-considered touches of azure, antique bronze and dove-gray give this exclusive watch a timeless, refined air that is quite breathtaking.
The painterly palette of the Hautlence HL2.0 sets it apart, and it may be one of this timepiece's most diverting design elements. Soft colors soothe the eye, and the tones chosen for this timepiece's design are decidedly gentle, while still appearing totally masculine. However, this design may be available in more somber tones to suit more subdued tastes.
Features of the Hautlence HL2.0 Limited Edition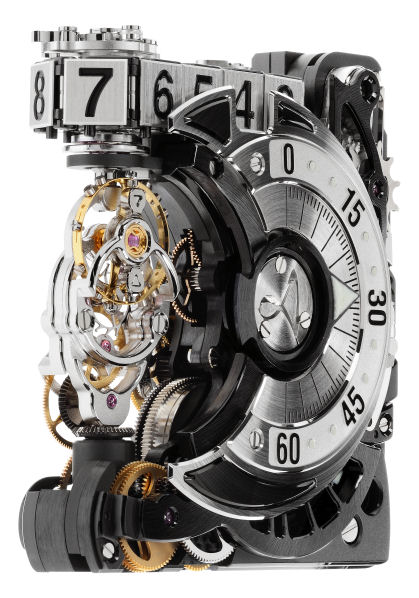 Equipped with an in-house, automatic movement, the Hautlence HL2.0 Limited Edition wristwatch is wound using an oscillating rotor. The back of the watch case is encased in sapphire crystal, so that watch owners may view their timepiece's mechanisms whenever they like.
Each watch features a main disc that is found on the middle of the dial, and this disc illustrates retrograde minutes. Hours are shown in an innovative way, along the chain with twelve links. This timepiece's power reserve is located below the central dial. Currently, there are three patents related to the movements of this cutting-edge luxury wristwatch.
I've written it several times and every time I have to write it again I know it isn't going to be for the last time… "complication the the first degree!".