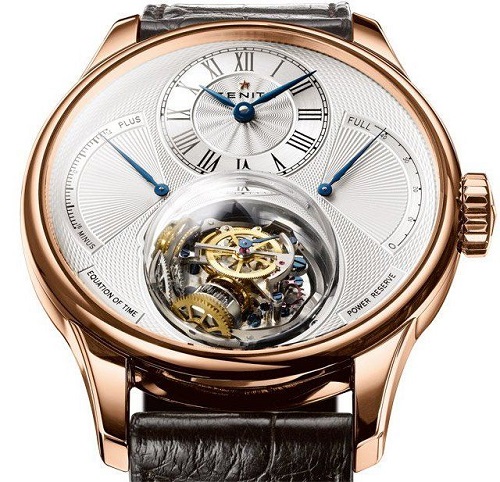 Zenith – Christophe Colomb Equation of Time
If you're fond of the warm beauty of rose gold, you'll adore the visual appeal of the Zenith Christophe Colomb Equation of Time wristwatch. This elegant timepiece is a very exclusive watch, as only seventy-five of these precious models were ever created.
Featuring a stunning dial crafted from silver guilloche, this luxury design is unique, innovative, and incredibly beautiful to behold. Through the sapphire crystal cover, the mechanism of the timepiece is readily apparent, so it's possible to marvel at the 166-component movement while it operates.
Designed to compensate for the effects of gravity, this balanced and beautiful timepiece also features a range of high-tech systems that allow watch owners to know the difference between solar time and mean time.
60 months of careful design and drawing
If you're a "techie" who's looking for a true "dream watch", you'll be pleased to know that the designers at Zenith spent 60 months putting together plans for this elegant and cutting-edge device. Available in a range of finishes, you may also choose superlative models in white-gold finishes or yellow gold palettes. The watch is usually adorned with a sleek, dark alligator strap that sets off its precious metals and intricate movements to absolute perfection.
Christophe Colomb Equation of time, simply one of a kind
Featuring a top-notch tourbillon movement that helps the watch to keep perfect time (in even in the most gravity-defying circumstances), the Christoph Colomb Equation of Time wristwatch is a masterpiece of modern engineering, and it represents the highest pinnacle of achievement for Zenith.
Large watch hands and bold numerals make this design easy to read and understand. A series of watch face colors and finishes are available, ranging from sleek, silvery backgrounds with Art Deco-inspired engraving to basic and ultra-modern black.
However, the classic rose-gold design features a pale, cream-colored background that highlights the beauty of the watch's visible movements. Each design has a sapphire crystal cover on front and back – this means that watch owners may also see what's going in within their timepieces when they turn the watches over.
Not only the watch is impressive..
Unbelievably impressive, this very high-end design is not cheap. In fact, it's been known to retail for about a quarter-million dollars. Meant for the truly discerning man, this particular wristwatch offers beauty, practicality, and the most elegant engineering imaginable.
This watch is something that any modern-day explorer, scientist or adventurer will really appreciate, and owning one of these beauties will definitely be a dream come true for any man who appreciates this ultimate melding of form and function.
As the penultimate status symbol, the Christoph Columb really delivers. As an object of beauty, it is second to none and therefore a highly collectible timepiece.
Features of the Christoph Columb Equation of Time Watch
The watch case measures 45mm in diameter and its case is generally crafted of fine, 18 karat rose gold. Equipped with a manual-winding El Primero movement, this timepiece also has optimum power reserve and water resistance to a depth of 3 ATM. Each watch comes with a gyroscopic, self-regulating module that defies gravity and helps to keep perfect time. The watch's alligator leather strap come with a triple-folding buckle made of high-quality gold that coordinates with the watch case.