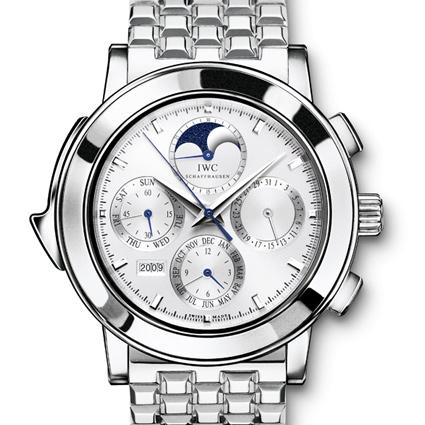 IWC Schaffhausen, American, German ingenuity lead to better watches
What do you get when an American visionary combines vision with fine Swiss watchmaking?
IWC Schaffhausen, of course!
Florentine Jones, an American engineer and watchmaker, had worked for E. Howard and Company. Jones idea? Have a Swiss watchmaker produce quality watches in the hopes of introducing Americans to Swiss craftsmanship and combining American technology to manufacture watch movements for Americans. But, Jones ideas were not well-received. Low-paying Swiss jobs were abundant and people feared Jones idea to open a factory would put work-home watchmakers out of jobs. However, one Swiss town was promising.
1868, birth of incredible timepieces
When industrialist, Johann Heinrich Moser heard of Jones' plans, he welcomed the idea and offered to build the first hydroelectric plant in town. With his factory successful in 1868 and orders coming in, F.A. Jones built another factory in 1874. Able to house 300 employees, Jones had 196 when his factory opened. The Swiss who were so afraid of losing their jobs now embraced the work. In 1880, the company was sold to Johann Rauschenbach-Vogel and stayed in the family for four generations.
What makes International Watch Company unique is the newest watch collection. Their pilot's watch, hand wound in the vintage collection was impressive. A retro look captures that 1936 feel and the simplicity of the watch face are reason enough why this particular timepiece are welcoming. But even with simplicity, this does not mean a watch cannot ever benefit from a little bling, 18 diamonds, got this limited 500-watch mark.
Another reason IWC Schaffhausen is interesting is the company's rich history and people in the past who have owned IWC. For example, the famed Carl Jung is said to at one point owned the company. During his ownership, the Swiss watchmaker was an open trading company.
This company has class.
And, this doesn't just include the manufacturer's past. This means watches, too. Offering vulcanized rubber, IWC's Aquatimer Chronograph special edition Galapagos Islands timepiece is stunningly rugged and beautiful. A mere $6,900, this watch is water resistant, up to 12 bars. The rubber-coated stainless steel makes this a good watch to withstand everyday use. And for the price, the 25 jewels it has seems a good value compared to other IWC Schaffhausen watches.
Among IWC's great watches are the Portuguese Perpetual, which can have a power reserve of seven days, and the Ingenieurs series. Especially the Big Chronograph in that series is a unique piece.
While some may find it unusual to find a Swiss manufacturer making a Portuguese-style watch, watch lovers world-wide may be less surprised to know IWC has the attention of various producers in the worldwide market. And unlike the Perpetual that is available in 18K rose gold. White gold or platinum, IWC is about offering customers variety and choices. This is because every IWC is uniquely crafted and no two are ever exactly alike. Like its history, IWC is moving forward. The Swiss company recently opened a boutique in Hong Kong. The International boutique will also allow customers to see unique IWC pieces with in the IWC collection.
>>> See some nice IWC Models and prices
Don't be fooled by the watches simplicity
IWC has wisely surrounded itself with businessmen of various types. One smart business decision from IWC was to rely on feedback from a wide range of sources, a global consortium. This an extreme smart move. One, it allows the company head to gauge how well certain watches are selling. It also allows for customers to express what they loved and hated about certain models and customers overall satisfaction. With its German symbol of quality, IWC customers can rest assured the company prides itself on securing extremely high marks in customer service.
Why does IWC seem so different from other watch companies?
Perhaps, the key lies in the fact family members ran the company for four generations. And, this Swiss company was started by an American, guided by Germans and shaped by Swiss?
Tragedies over time may have played a monumental role in shaping the company's drive to succeed. In World War II Americans mistakenly bombed the factory. But, instead of exploding, the bomb fell the ceiling. Though the windows broke, the bomb did not devastate the watch maker. The company's own fire brigade put out a fire that started and the company kept making watches.
IWC's secret may not be a secret at all. It is a proven fact the company has add to adjust to through its long history Ability to adjust and change is critical for any company who wants to remain a recognized world-wide success and retain customers. For IWC, it is their reputation as a watch maker as well.
IWC's motto still reflects its founding values. Probus Scafusia, meaning "good solid craftsmanship" sums up why customers have remained and should remain with this watch maker. After all, the watch maker has kept its word to customers since 1903, offering dependable service into the 21st century.
IWC's professional service and support